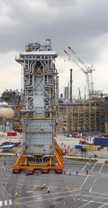 Mitsui Engineering & Shipbuilding Co., Ltd. (MES) finished installation of a total of seven world-scale furnaces for ExxonMobil Asia Pacific Pte. Ltd. Each furnace is 50 meters tall and weighs over 2,000 tons, which was completely modularized in Thailand, shipped to Singapore and safely installed at the construction site in Jurong Island, Singapore at the end of April 2010.
MES is awarded this olefins furnaces project with Heurtey Petrochem S.A ,(France) in June 2007 as a part of the ExxonMobil's largest integrated chemical and refining project.
The full- modularization significantly contributed to shortening delivery period, cost reduction and saving space at site.
MES reached this significant milestone with the arrival and installation of seven world-scale furnace modules on April 27, 2010. Engineering work for the furnace modules took 19 months and was carried out in France and Japan.