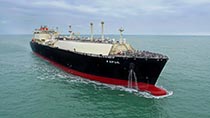 A subsidiary of Mitsui Engineering & Shipbuilding Co., Ltd. ("MES", President: Mr. Takao Tanaka); MES Technoservice Co., Ltd. ("STS", President: Mr. Hiroshi Suzuki) concluded a 20-year contract with MOL LNG Transport (Europe) Ltd. ("MOL LNG", Managing Director: Mr. Andy Hill) for the Long Term Maintenance of Mitsui MAN B&W marine diesel engines installed on the vessels managed by MOL LNG on September 11, 2017. This agreement marks the first long term maintenance partnership with key manufacturers STS in MOL's commitment to providing through life support and enable Safe Reliable and Sustainable transportation service to its customers.

The target vessels are M / V "PAPUA", "SOUTHERN CROSS", "BEIDOU STAR", and "KUMUL", each of which has 2 main engines of 6S70ME C8.2 manufactured by Mitsui. STS will conduct interim inspections, periodic inspections, and technical services on a regular basis as well as supply parts and engineer dispatch to carry out the necessary maintenance over the duration of the 20-year contract.

Maintenance of the target vessels are scheduled to be carried out according to the contents of the maintenance recommended by the engine manufacturer. All required parts are also prepared in advance and supplied in the most timely way. Additionally the service includes main engine status check by on board visits by our service engineers four times a year. Finally, CMAXS e-GICSX, provided by Class NK Consulting Service Co., Ltd., is also planned to be installed on the 4 target vessels. Real time abnormality diagnosis on the vessel as well as main engine performance status diagnosis on land, utilizing "big data", are carried out automatically, which allows for early detection of main engine abnormality and thereby prevention of serious accidents.

MES and STS provide technologically advanced products, including marine diesel engines, as well as complete after-sales service for all our products. We strive to meet our customer's needs now and in the future.