Mitsui E&S Engineering Co., Ltd.
Mitsui E&S Engineering Co., Ltd.
About the Mitsui E&S Group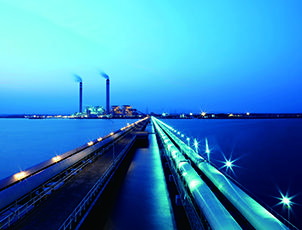 The company engages in the EPC business for plant facilities in Japan and overseas, including coal thermal power generation facilities, biomass, wind power generation facilities, and special building structures represented by particle observatory systems. Emphasizing the four global mega trends, namely climate change, environmental protection, struggles for energy and resources and demographic change, the company will simultaneously develop the EPC business, the power generation business, and business investment and related services across a wide range of related areas.
Main products
Biomass power plant, Wind power facility, Overseas power plant engineering & construction, Environmental facility
Company Profile
| | |
| --- | --- |
| Company Name | Mitsui E&S Engineering Co., Ltd. |
| Head Office | 6-4, Tsukiji 5-chome, Chuo-ku, Tokyo 104-8439, Japan |
| Sales Office | 6-1, Nakase 2-chome, Mihama-ku, Chiba-city 261-7128,Japan WBG Marive East |
| Representative | Shigeru Tokumaru, President |
| Major Business Areas | Design, procurement, engineering, construction & installation, repair & maintenance operations, etc. of various machinery, plants, etc. |
| Capital | 100 million yen |
| Employees | 326 |
Main group companies
Mitsui E&S Plant Engineering Inc., Mitsui E&S Environment Engineering Corporation, Hamamatsu Green Wave Co., Ltd., Green Power Ichihara Co., Ltd., Betsukai Biogas Power Co., Ltd., DASH Engineering Philippines, Inc., Engineers and Constructors International, Inc.