Initiative to Reduce Environmental Impact
Initiative to Reduce Environmental Impact
Sustainability
Development of the Neo Series of Next-Generation Eco Ships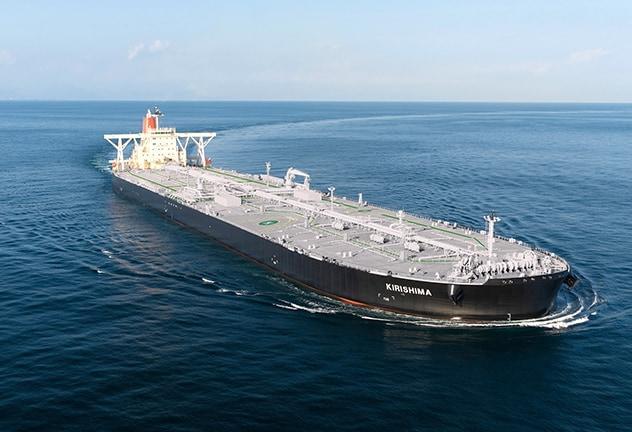 Today, with the introduction of CO2 emission regulations for international shipping, the reduction of greenhouse gas (GHG) emissions from ships has become a pressing issue. In response, the Mitsui E&S Group has developed the "neo" series of environmentally friendly, fuel-efficient bulk carriers, and is moving forward with their introduction to the market. The Group has also applied the same technologies that it has developed with these bulk carriers to its large-scale tankers in order to develop the neoVLCC (Very Large Crude Carrier), the fifth installment of the "neo" series. Mitsui E&S has now completed construction of the first ship in this series: the 310,000ton VLCC Kirishima, one of the world's largest-sized VLCCs. In addition to CO2 emission regulations, the Kirishima was also designed to clear emission regulations for other harmful substances such as NOx (nitrogen oxides) and SOx (sulfur oxides), and to improve overall environmental friendliness and fuel economy performance.
Neo Series Next-Generation Eco Ships
Bulk carriers: 56,000ton neo56BC, 66,000ton neo66BC, 60,000ton neo60BC, 182,000ton neo182BC
Tankers: neoVLCC
Gas tankers: neo83GC
Development of Gas Burning Ship Engines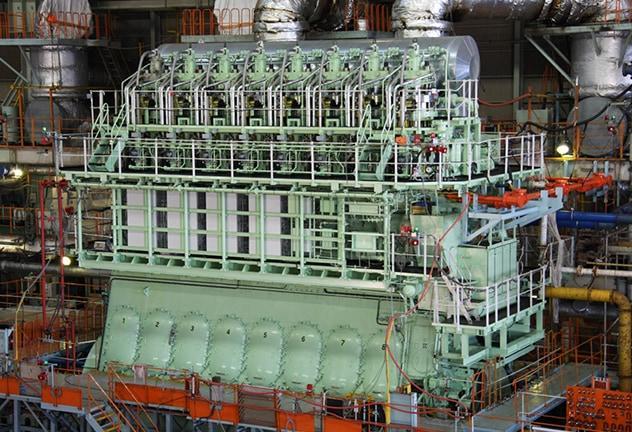 Gas-type fuels such as LNG (liquid natural gas), ethane, methanol and LPG (liquid petroleum gas) are currently gaining attention as fuels for use in ship engines. The reason for this is that they are environmentally friendly fuels that enable major reductions in emissions of SOx, CO2 and other substances that place a burden on the environment, as well as reductions in NOx and PM (particulate matter). They are currently gaining attention as ship fuels to replace heavy fuel oil, which is the current mainstream ship fuel. The Mitsui E&S Group has successfully completed Japan's first commercial electronically controlled gas-injection diesel engine (ME-GI), which enables the use of environmentally fuels. At the same time as being a high thermal efficiency large 2-cycle low speed diesel engine, the ME-GI is also a dual fuel engine which enables the use of gas-type fuels such as natural gas as well as heavy fuel oil. Mitsui E&S now boasts the top results in Japan in this field of development.
Development of Hybrid Transfer Cranes for Use in Shipyards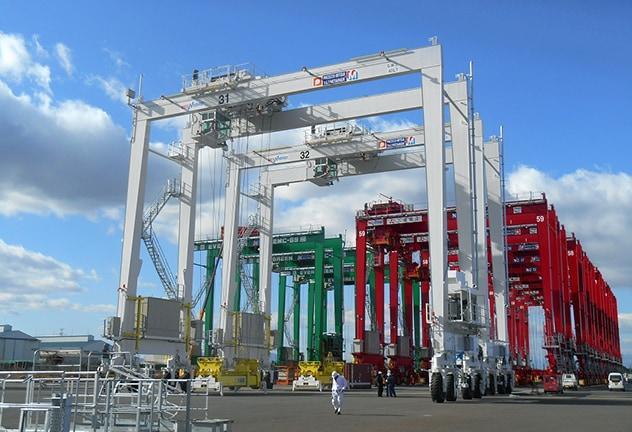 In ports and shipyards, too, response to environmental problems has become a pressing issue. As a pioneering crane manufacturer in the provision of "clean" environmentally friendly cargo-handling machinery, Mitsui E&S is engaged in the development and sale of environmentally friendly hybrid transfer cranes for use in shipyards. In addition to conventional engine-powered drive mechanisms, the Group's hybrid transfer cranes are also equipped with lithium-ion batteries, enabling regenerated energy (which in the past had been consumed as heat using resistor units) to be stored and reused to maximum effect. In comparison with conventional cranes, these hybrid cranes achieve up to a 60% maximum reduction in fuel consumption and a 60% maximum reduction in CO2 in emissions. In addition to reducing CO2 emissions, the cranes also reduce running costs due to their high fuel efficiency and enable noise reductions of up to 20dB, making them not only environmentally friendly but also customer friendly.
In the future, too, Mitsui E&S will continue to proactively communicate its home-grown technologies for responding to environmental issues to enable their use in ports and shipyards overseas.
Construction of Biomass Power Plant inside Chiba Plant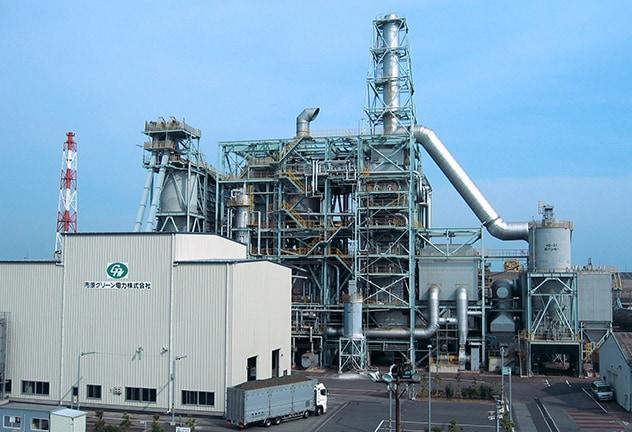 The Mitsui E&S Group—in association with ITOCHU Corporation and Osaka Gas Co., Ltd.—made the decision to construct a biomass power plant at its Mitsui E&S Chiba plant in Ichihara, Chiba. The three companies established Ichihara Biomass Power Co., Ltd. as an operating company for the plant in a three-way joint venture.
In this project, the companies will seek to achieve stable operation of the biomass power plant by utilizing and combining their respective strengths. Mitsui E&S will construct, operation and maintain the plant, ITOCHU's will procure and supply the biomass fuel, and Osaka Gas will provide its power plant operation knowledge.
The plant uses palm kernel shells (PKS) and wood pellets as its fuel, and is capable of generating 49.9MW of power, enough to cover the power supply needs of approximately 100,000 households.
Green Power Ichihara Co., Ltd.—a Mitsui E&S Group company—has operated one of the largest biomass power generation facilities in Japan since 2008, achieving effective annual reductions of 350,000 tons in CO2 emissions.
Moving forward, Mitsui E&S will continue contributing to the prevention of global warming and the creation of a recycling-based society through the proactive advancement of business operations utilizing renewable energy both in Japan and overseas.