March 10, 2010


MES achieves 100 deliveries of "Mitsui's 56" series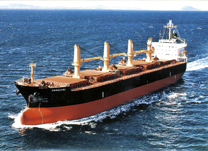 Mitsui Engineering & Shipbuilding Co., Ltd. (MES) completed and delivered M.V. "IKAN SELIGI" (MES Hull No. 1770) at its Tamano Works on 10th March, 2010, which is the 100th delivery of 56,000 dwt type bulk carrier built by MES.

MES has long been designing and building Handymax bulk carriers as one of its main products. In recent years, since the development and sales of 46,000 dwt type (27 units ordered) started in 1993, MES resumed "series ship construction" for that sector. For developing such most modern 46,000 dwt type, which had bigger deadweight and bigger cargo capacity than the other major designs of handymax type in those days, MES made its utmost efforts to achieve bigger capacity and optimum specifications to reflect the users' operational requirements even to meet the restrictions of various ports. Such 46,000 dwt type was highly appreciated in the market and greatly contributed to establish the foundation of Handymax bulk carrier brand of MES.
In 1998, MES developed 50,000 dwt type bulk carrier (33 units ordered) aiming more cargo loading capacity, and thereafter in 2001, brought its 56,000 dwt type into the market implementing the requirements of improvements from the clients based upon the actual operation results of 46,000 dwt type and 50,000 dwt type and of further less apprehensions of trouble and enlargement on deadweight.
This series is called "Mitsui's 56" and widely acknowledged among shipowners and operators in the world and highly appreciated in the market. With the support of the brisk shipping market, "Mitsui's 56" extended the number of orders and after about 7 years from the first delivery of this type, M.V. "NORDHVAL" (MES Hull No. 1565), reached a commemorative phase of 100th completion and delivery.

Special features of "Mitsui's 56"
1. Cargo hold dimensions are enlarged to achieve bigger capacity (over 70,000 m3) to meet the demand of clients.
2. Hatch openings are also enlarged for smooth cargo handling to meet the various operational conditions; i.e. operation routes, restrictions of ports and kinds of cargoes such as coal, iron ore, grain, steel and other raw materials and/or semi-products. Deck cranes with bigger capacity are installed and capable of carrying out loading/discharging of cargoes at ports where no cargo handling facilities available.
3. Installed with MITSUI-MAN B&W Diesel Engine as its main engine, which is a light, compact and high output engine with excellent reliability. It has sufficient power margin (at normal service output = 75% maximum continuous output) to provide a high flexibility on operations.

In addition to the above features, advantages on propulsion performance, fuel consumption and cargo handlings obtained "Mitsui's 56" an appreciation from shipowners and charterers and lead to achieve 100 completions, a remarkable number in the shipbuilding industry as a single series.

There still remain over 50 units of "Mitsui's 56" on order backlog and being built both at its Tamano Works and Chiba Works. MES continues to be committed to build ships of high quality and to meet the demand of clients.