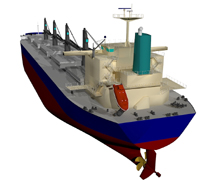 Mitsui Engineering & Shipbuilding Co., Ltd. (with president Mr. Yasuhiko Katoh) has developed 66,000 dwt bulk carrier of next generation named "neo Supramax 66BC" as the first type of ships developed to reduce CO2 emission by 30% and launched it onto the market.
This new ship is an enlarged version of our best selling 56,000 dwt type handymax bulk carrier (over 150 orders received), keeping its convenience in operation. Development of the ship's design was preceded by many hearings from the owners and the operators and investigations on more than 600 ports all over the world. This ship is designed to have wide beam (36m) and shallow draft, considering present trade patterns of 56BCs and the expansion of Panama Canal, which is expected in 2014.
Although this "neo Supramax 66BC" is larger than 56BC, this new ship achieves less fuel consumption than that of 56BC by adopting our newly developed energy-saving hull form.
We have two types of specification, one is Premium model and the other is Standard model. Premium model achieves the reduction of CO2 emission by about 21% on ton-mile basis. Furthermore, CO2 emission will be reduced up to about 30% by applying optional soft/hardware.
In addition, we will proceed with developments on measures to meet SOx and NOx emission controls, which will become increasingly severe in the future. Besides, proactive design for future installation of the ballast water treatment system is adopted, which is a hot current topic among maritime industries.