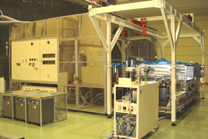 MES AFTY Corporation (hereinafter "MES AFTY" with its president Mr. Seiju Uchida) which is a subsidiary company of Mitsui Engineering & Shipbuilding Co., Ltd. (hereinafter "MES" with its president Mr. Yasuhiko Katoh) has completed the development of next generation type Ion Implanter "Magic-i" of an enhanced quality and efficiency for doping proces with an eye to the large-scale production in the future of the Active-Matrix Organic Light-Emitting Diode (hereinafter called "AMOLED") and has shipped its first unit to the customer recently.
AMOLED is a high performance display having high brightness, contrast and color reproducibility and is now actively adopted on a high-grade mobile phone and smart phone by the recent establishment of large-scale production technology.
It is believed that AMOLED will be the main stream for 3-D TV for its high quality image and superior responsiveness to the liquid crystal. Display makers are planning to have a mass-production line of AMOLED TV with large glass substrate.
MES AFTY has a schedule of following shipments toward the end of this year and beginning of next year. MES AFTY is now aggressively having business talks on the "Magic-i" and several types of annealing equipments with Korea who takes a lead in the investment for mass-production and Taiwan who is converting its existing a-Si mass-production line to that of AMOLED as well as China who is eager to make research and development and establish its pilot line.