January 5, 2011


New Year Message by the President (Summary)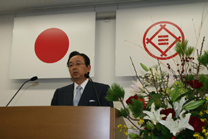 ■ Circumstances around us
Order situation in the shipbuilding business is now showing a recovery trend mainly in terms of bulk carriers. Yet, we are severely hit by the higher appreciation of Japanese yen, and are facing serious challenges in all business sectors to get our orders.

In order to secure orders continuously and have sustainable development of the company, we have to address the urgent tasks of thorough elimination of waste, enhancement of production efficiency and for maximization of profit while promoting the differentiation of our products and services.

■ Get back to basics
When we are in a difficult situation, it is important to get back to basics.
Our company philosophy is :
"We will continue working as a company trusted by society and individuals."
Our management policies are:
○ To offer higher satisfaction to the customers
○ To provide safe and efficient working environment to employees 
○ To contribute to the development of the society
○ To pursue a profit for the continuity of the company

We have to get back to and remember the basics as specified in 4 management policies and 9 standards of conduct.

■ Our achievement in environment-related business
We are now successfully developing new products and new business as specified in 08 Mid-term Plan, and the developments of the ballast water treatment system and of the ship with CO2 reduction by 30% are proceeding smoothly.

As for NGH business, we will complete the demonstration test of continuous NGH production within this year and continue our development for bigger scale production.

As for bio-ethanol business, we completed a rice ethanol plant for JA Niigata the year before last, and will start the demonstration test of a new process based upon non-food material in South East Asia.

Construction of the production plant for lithium-ion battery positive electrode material is now in the range.

For this year, we will accelerate the development of solar heat generation, solar photovoltaic generation, wave power generation, needless to say wind power generation, which are all friendly to the environment.

■ Company-wide activities started in advance of next Mid-term Plan
We started last year and now actively carrying out some company-wide activities as a part of next mid-term plan activities raising the banner of "Enhancement of Competitiveness" and "Exercise of Comprehensive Power."

As for the enhancement of competitiveness, we are now working hard for strengthening the cost competitiveness of our strategic products, cost reduction in the works and for product differentiation and improvement of design quality by up-grading the design methodology.

As for the exercise of comprehensive power, we are tackling the new businesses including overseas infrastructure projects jumping over the boundaries of headquarters and by joint collaboration with our domestic subsidiary companies in order to expand our business magnitude through the full exercise of comprehensive power by the Mitsui Zosen Group.

■ Firm conviction for work
We highly appreciate "United work in united mind", namely we must act on a team and be strongly conscious of the work in organization and engage in the work with enthusiasm. Strong consciousness of safety, improvement, efficiency, action on a team and cost are required.

Have in mind that this year is the year for win or lose. I believe we can have a way to the bright future, if we do our best with a strong determination to overcome the current difficulties. "Where there is a will, there is a way." Let us move forward with a sound sense of crisis!