MESHD, MES-S and Kitami Institute of Technology jointly to develop ice blocks similar to shallow methane hydrates
Press Release
News & Information
Sep 13,2019
MESHD, MES-S and Kitami Institute of Technology jointly to develop ice blocks similar to shallow methane hydrates

Mitsui E&S Holdings Co., Ltd. (President and COO: Ryoichi Oka, "MESHD") and Mitsui E & S Shipbuilding Co., Ltd. (President: Tetsuro Koga, "MES-S") and Kitami Institute of Technology (President: Soichiro Suzuki, "KIT") have started to jointly develop how to make big ice blocks which simulates ice-like solid of shallow methane hydrate.

The seabed of Japan's exclusive economic zone (EEZ) contains various resources including shallow methane hydrates, sandy layer type methane hydrates, sea-floor hydrothermal deposits and cobalt rich crusts, and there are high expectations for future development with a view to harvesting these materials from the seabed as 100% domestically-produced resources. In particular, shallow methane hydrate, an ice-like solid material composed of water and methane molecules, can only exist in stable form under the low-temperature, high-pressure conditions of the seabed.
MESHD and MES-S are investigating a method to harvest shallow methane hydrate from the seabed using a drill with a large diameter and it is necessary to acquire design data of the drilling equipment in order to operate the drilling rig stably.
However, it is not easy to carry out tests to obtain the design data at the seabed of about 400m or more where shallow methane hydrate exists.
In addition, it is difficult to obtain the design data onshore by using the shallow methane hydrate itself, because the methane hydrate partially dissociates into methane gas and water during lifting one from the seabed to the ocean surface.
Therefore, we are investigating obtaining the design data by performing onshore drilling tests using artificial ice blocks simulating shallow methane hydrate.
The drilling equipment for onshore drilling tests has already been examined with the cooperation of MHWirth GmbH (MHWirth), a leading global provider of first-class drilling solutions and services. Adding to the drilling equipment, since December 2018, MESHD and MES-S have been engaged in joint research efforts in association with Geotechnical Engineering Lab. (Professor Satoshi Yamashita) at School of Earth and Environmental Sciences in KIT, which possesses many years of knowledge and expertise in the field of methane hydrate-containing ground research.
KIT has produced a large ice block corresponding to the drilling test and obtained the mechanical property data of the ice block.In the future, based on the knowledge gained, we will continue to study methods for producing ice blocks that have a strength comparable to that of shallow methane hydrates.
MESHD and MES-S have been participating in studies and research for the development of technologies for the recovery of shallow methane hydrate being conducted by the Ministry of Economy, Trade and Industry (METI) Agency for Natural Resources and Energy and the National Institute of Advanced Industrial Science and Technology (AIST) since fiscal 2016, and is advancing considerations with regard to recovery methods and economic viability with a view to the commercial application of these technologies.
Moving forward, focusing around the pivotal development of subsea mining technologies and offshore drilling systems, MESHD and MES-S will continue to work actively towards the establishment of lifting and recovery technologies for shallow methane hydrate and other seabed resources.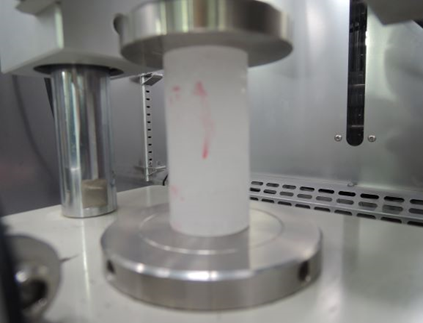 The information contained in the articles is current at the time of publication.
Products, service fees, service content and specifications, contact information, and other details are subject to change without notice.
Contact