2020 New Year's Message from the President (Summary)
Press Release
News & Information
Jan 6,2020
2020 New Year's Message from the President (Summary)
Ryoichi Oka, President & CEO and Representative Director of Mitsui E&S Holdings Co., Ltd., has delivered his New Year's message to all personnel, including those of Group companies. It is summarized below.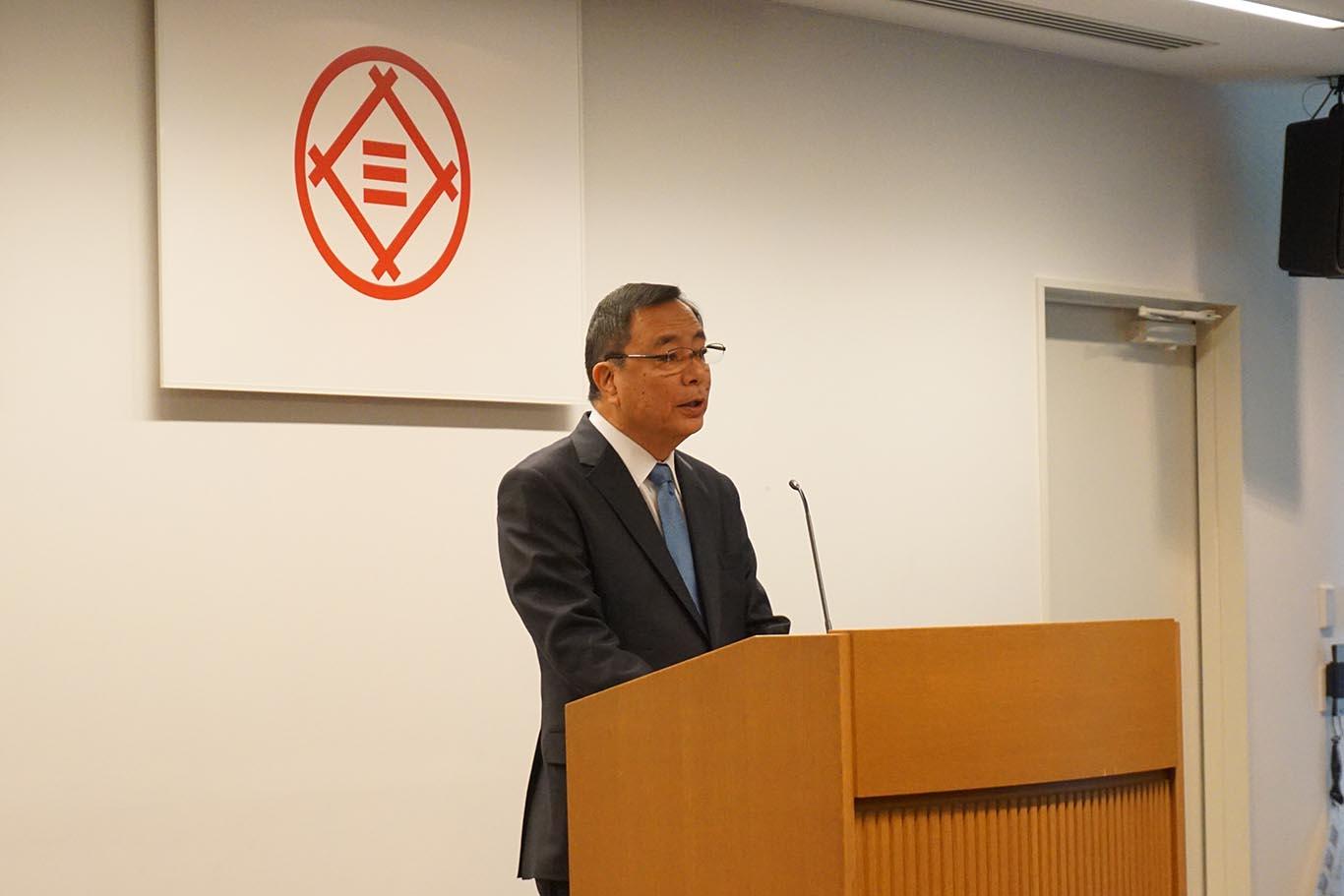 Happy New Year to you all.
Last year, we experienced the arrival of a new age as the Japanese Imperial era changed from Heisei to Reiwa. Meanwhile, it was a tough year with multiple natural disasters, including massive typhoons, and it was a very difficult year for our Group as well. I extend my heartfelt gratitude to you for your outstanding work, day and night, at your workplaces and in remote locations. The New Year 2020 will be truly decisive for our Group. At the very beginning of the year, I would like to speak to you with a focus on business revival and three missions to be conducted in order for us to move further ahead.
Review and progress of the business revival plan and overcoming the current crisis
Our Group urgently needs to improve its financial standing and increase its financial strength after the impairment of equity capital due to a very large loss and the tumbling revenues of our existing businesses, including the shipbuilding business and the engineering business. We drew up a business revival plan last May with the aim of overcoming this crisis. We have since endeavored to minimize the loss in the Indonesian coal-fired power plant project, sell-off businesses and assets, and cut fixed expenses. To date, we have almost established a policy and a system for drawing up a roadmap. In November, we partially revised the plan and established an Engineering Business Management Department under the direct control of the President of Mitsui E&S Holdings. We will take every possible measure to minimize expenses and achieve the early completion of the project. We will speed up the sale of businesses and assets with a view to achieving the likelihood of recovering the equity capital by the end of FY2019(2020/03).
Evolving into a company that makes stable profit
Our Group has some segments that could continue to grow if we introduce a workforce to them. We will close down and withdraw from unprofitable businesses and concentrate our resources on promising businesses to boost our earnings strength. With a view to achieving further growth, some organizations will reassign some staff members to other operating companies in the Group, and other organizations will either work together with other companies or come under the control of other companies. I can imagine that those subject to these transfers may feel uneasy, but we have decided to take this action with the greatest focus on ensuring that you can all work without anxiety and display the skills that you have cultivated. Our Group engages in businesses that serve the world, and you are needed in society. Please be confident in your own capabilities and view this reform positively.
Nurturing growing businesses for the next era
The Mid-Term Business Plan 2020 will kick off in FY2020(2021/03). In accordance with this, we will be developing a growth strategy for the next era and introducing our resources to products and services with future profit potential. We will be shifting from an outright sales business model to a business model of offering services, such as operation, maintenance and automation based on IoT technologies, throughout the product life cycle. In addition, to attain business growth while adapting to market changes, we must broadly explore the outside world for resources without being constrained by the self-sufficiency principle or the conventional framework and actively seek collaboration with other companies with a positive, flexible approach.
Safety and health, compliance and information security
It goes without saying that safety and health is our top priority. Under the current circumstances of uncertainty about the future, mental health care is crucial. An open culture is fundamental, not only for safety and health but also for compliance and information security. Managers are asked to take the lead in raising awareness among all staff and in building a culture in which they talk to one another and take action as soon as they discover anything. The world is changing significantly. Instead of just doing what you have always done, always ask yourself if what you are going to do is all right before putting it into action.
In conclusion
We have a duty to add new pages to our Group's century-long history, which gives us pride. I have been talking about serious matters on all recent occasions. I regard the present time as an opportunity to make a fresh start, and we are now at the dawn of this. I believe that we and the Group will be stronger and achieve fresh growth after overcoming the current crisis. The companies and businesses are yours. With a sense of resolve, we will work as one to build a new company and business that will gain the trust of stakeholders and where we will work with hope for the future.
The information contained in the articles is current at the time of publication.
Products, service fees, service content and specifications, contact information, and other details are subject to change without notice.
Contact